BJARNI
Managing & Creative Director
" The Devil is in the detail " – Ludwig Mies Van Der Rohe
Bjarni Breidfjord was born in Iceland and spent his childhood living in exotic locations all over the world due to his father's assignments for the UN. His passion for travel, foreign languages and culture is reflected in his adaptability and approach to design. Part of Luxoria's appeal is its cosmopolitan heritage, Luxoria's clientele are predominantly international with diverse backgrounds.
Upon contemplating studies in both New York City and Paris, fate brought Bjarni to Barcelona where he enrolled in the distinguished Escola Elisava which today forms part of the University Pompeu Fabra, to pursue his studies in interior architecture. During his time in Spain he worked in various design related fields such as set design, interior design and costume design before moving to France.
His company Luxoria was established in 2007 but expanded and took on its current form in 2012. Bjarni's vision for the company has always been the same, his mission is to bring beauty and functionality to the client's surroundings by creating a sophisticated atmosphere finished to the highest standard.
Bjarni lives between The French Riviera and Paris and works from both company offices. In his free time, Bjarni is an avid traveler, Mediterranean destinations hold a special place in his heart. He is keen foodie, this is evident in his enviable culinary flair.
VASILIS
Senior Designer & Project Manager
" Recognizing the need is the primary condition for design. " – Charles Eames
Vasilis was born and raised in Greece. He studied Product Design Engineering at University of the Aegean, in the heart of Cyclades Islands on Syros Island. After 3 years of work at Kyclos Creative Studio , where he was co-founder and designer, he decided to evolve his career, and moved to the French Riviera, where started working in interior design projects, in Monaco and the South of France.
Vasilis began working as an Interior Designer and Project Manager at Luxoria Interiors at the headquarters office in Nice.
He is inspired by simplicity and clean geometrical lines. Vasilis's innate charisma means he creates a great bond with his clients throughout the duration of a project. His attention to detail design experience allow him to create living environments that are soothing as well as considered and practical.
Vasilis spends his free time travelling around Europe, he has a penchant for the Greek isles and Milan. He is also a keen ceramist and artist, his proud heritage is reflected in his artwork.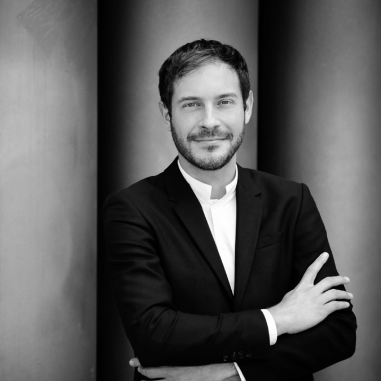 CORALIE
Interior Designer & Project Manager
"The essence of a project is the perfect harmony between the aesthetic, the useful and the just." – Frank Lloyd Wright
Coralie is an interior designer originating from France, she was born and raised born in the city of Nantes.
She studied architecture, learning about the construction process and the details of the design of living spaces.
Passionate about travel and curious to feed her open-mindedness, Coralie lived in London for some time in her youth and recently returned to France and living in Melbourne, Australia.
Coralie was drawn to the French Riviera for its cosmopolitan atmosphere and idyllic landscapes. She moved to the Cote d'Azur in in the spring of 2022 and started at Luxoria soon after.
For Coralie there is no singular approach in architecture, each project must respond to its unique context.
More than a cultural, intellectual or technical practice, it requires an attentive look and listening to the world critically, a bit like a conductor who works and composes harmonies to be lived for the people using the space, in order to reach an aesthetic, functional and artistic end need to perceive the essence of a project, its operating territory and its occupants as a whole, a globality.
In her free time, Coralie likes to devote herself to cultural and sports activities, such as strolling in museums, going to concerts, doing yoga. But what she likes most of all is to meet friends around a good meal and share in convivial moments.
CRAIG
Interior Designer & Project Manager
" There are no strangers here; Only friends you haven't yet met. " – WB Yeats
Originally from Dublin; Ireland, he initially studied Literature & Media Culture. Following the completion of his studies he began a Fashion PR internship at Karen Millen, from there he worked for a fashion tech start-up focusing on social media, content creation and event production.
After working in the world of fashion he returned to college pursue studies in his true passion – Interior design. While studying he worked in an art gallery specialising in the procurement, sale and distribution of high-end contemporary and street art.
As his studies progressed in interior design he landed a role as junior designer with a prominent interior design firm based in Dublin. His time with the design firm allowed him access to the luxury design industry in Ireland.
Craig moved to the French Riviera in the spring of 2019 and began working at Luxoria soon after arriving. He works in both the Project Manager & Interior Designer field as well as Content and Web Development.
In his free time he enjoys travelling as well as hiking along the hills of the Italian and French Riviera. He is passionate about nature and conservation and regularly donates funding and time to these causes. When he is not exploring the great outdoors he unwinds at home by gardening and baking.
Julie
Interior Designer
"Elegance must be the right combination of distinction, naturalness, care and simplicity." – Christian Dior
Originally from the southwest of France, Julie was born and raised in the Landes region before moving to La Rochelle.
It was in the historic city of Bordeaux that she chose to begin her studies as a project manager in interior architecture at the LIM School Of Art, where, over the years, she assimilated practice and technique on various concrete projects. Through her studies, Julie was able to gain experience in the design of secondary villas on the Ile de Ré which allowed her to develop her discipline in the intricacies of luxury design.
Open-minded and curious about unique experiences, she spent some time discovering Canada and particularly Montreal, working on high-end projects on an international scope.
Drawing her inspiration from art, music and mainly fashion, Julie has a taste for refined detail and such meticulousness, in continuous search of aestheticism in the quest to make the history of a space unique and qualitative.
For her, a project is a symbol of sincerity, rigor, listening and instinct pushing the extension of emotions to create new ones.
Ambitious and determined for for a challenge, Julie relocated to the Mediterranean settling on the French Riviera. Shortly after arriving she joined the team at Luxoria as an interior designer.
In her free time, Julie has a keen interested in fashion, she loves to discover new exhibitions, on weekends she enjoys exploring the region. Most of all, she enjoys spending time with her friends and family in the surrounds of a good restaurant.
KAREN
Office Manager
" Nothing great has happened in the world without passion " – Hegel
Karen was born in Lille in the north of France. After studying translation in Brussels, she pursued her studies at a marketing and communication school still in Brussels.
Passionate about travel and foreign culture, it is only natural that Karen worked in the import/ export sector of cosmetic products for about 10 years for Swiss and American brands traveling in various countries.
The sun, the light, the Mediterranean climate brought Karen to settle in the south of France and, with her ex-husband, to found 15 years ago, La Manufacture, a graphic design company specialising in luxury brand identities.
A trustworthy, rigorous, and honest person, Karen oversees project management, the graphic execution of documents, and the administration of the company.
Passionate about design and with a taste for beautiful things, Karen naturally joined the Luxoria team as an Office Manager. Karen is a creative person that loves painting and drawing. She loves sport, dancing, and gymnastics in competition.
In her spare time, she is fond of traveling and hiking in the surrounding hills of the French Riviera.