Yacht Interior Design We Love
stories
Yacht interior design is synonymous with glamour and travel. These type of interiors need to be both practical and appealing to the eye. Thus, yacht interior design can be some of the most challenging, but experimental, designs one can go for. One has a myriad of design styles to go with, but there are four key styles we favour above all.
Old World Prestige
Yacht interiors that draw inspiration from old-world designs. They can feel like a luxury turn of the century hotel on the seas. This aesthetic draws a lot of of its characteristics from enchanting old-world ships. There is notable use of dark woods, blue tones and plenty of panelling details. Their design is a reflection of the stylistic heritage in seafaring.
Contemporary Cool
Image Credits : https://cdn.boatinternational.com/
Image Credits : https://cdn.boatinternational.com/
Image Credits : https://cdn.boatinternational.com/
Contemporary interiors have become the most popular choice for clients when buying new build yachts. These interiors are highly innovative and, chic and up to date. The tones are muted, with many favouring an earth tone palette and monochromatic themes.
Cutting Edge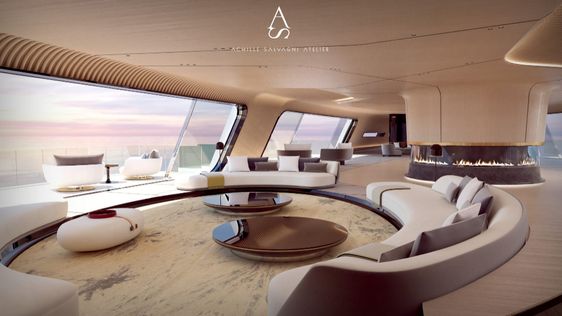 Image Credits: Yacht International
These yacht interiors feel futuristic, they are incredibly clever and awe inspiring. These designs can be incredibly intricate or incredibly simple. A cutting edge yacht interior design will fuse together smart tech and styling seamlessly. Many cutting edge yacht designs are still in concept stage of development. These renders allow clients to see the full potential of their project in incredible detail.
Nautical Nod
This is usually reserved for smaller vessels and holds popularity in North America, Scandinavia and the British isles. Think Ralph Lauren meets Nantuck or Provincetown. They are charming and cosy spaces that ooze old-school Americana affluence. These designs tend to pay homage to the principals of yacht design and tradition. Their interiors reference the great history of sailing through expertly crafted woodwork, practical textiles and a nautical colour palette.
To see more from our interior design blog posts click HERE. Additionally, you can follow us on Instagram @luxoria_interiors. There you will find some previous work, current work mixed in with some inspirational work from other designers. On top of that there is the Luxoria Pinterest page. This chronicles our inspiration as well as collaborations. There you will find mood boards to inspire, lifestyle, fashion, interiors and design elements to browse.